INVESTORS IN PEOPLE ACCREDITATION
SpecDrum Engineering is proud to be accredited with the prestigious INVESTORS IN PEOPLE standard.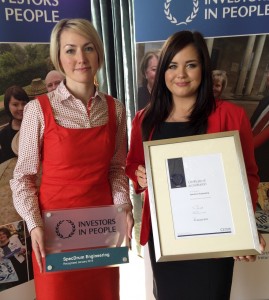 We pride ourselves on manufacturing high quality conveyor pulleys to our customers across the globe, but OUR PEOPLE ARE THE KEY TO OUR SUCCESS.
We are committed to continually training our workforce and where we can, we offer up-skilling and cross-training to our operatives on our factory floor allowing them to build on their skill set.
Speaking at the recent Investors in People Awards event held at Belfast Castle, Employment and Learning Minister Dr Stephen Farry said: "This occasion celebrates Northern Ireland businesses proving their excellence. Organisations succeed by realising the potential of their people. The organisations receiving Investors in People accreditation today are proof of that.
"People's strengths, people's ambitions and people's ideas are the engine of success. IiP accreditation signals to customers and employees your commitment to good business and people management excellence."
IiP has long been acknowledged as the most successful framework for business improvement through people. It helps organisations of every size, sector and location to compete and succeed through improved people performance. The approach to its delivery has recently changed, becoming more tailored to individual business needs, to help organisations develop, implement as well as evaluate their people management and development strategies.
The Minister concluded: "If you develop the skills of your employees and improve your employee engagement, success will ultimately follow. Through Investors in People, everything is informed by one principle: good people make a great business."
(Pictured accepting the award on behalf of SpecDrum Engineering: Ms Grace Fox and Ms Michelle McEvoy)
Want to talk to a member of our team?