Despatch Quality Operative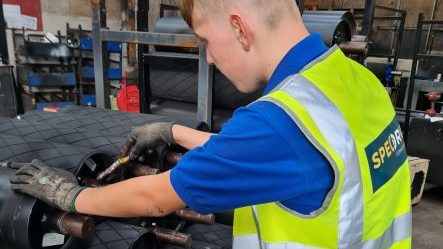 Job Summary
DUTIES & KEY RESPONSIBILITIES:
·         Ensure Despatch Operatives check technical drawings for pulleys on their assigned picking list.
·         Maintain close vigilance over Despatch Operatives as they complete PDI actions.
·         Ensure required pre-despatch checks have been completed fully and accurately prior to despatch.
·         Check quality inspection documents are completed, with particular attention paid to the following:
·         Pulleys distributed within Northern Ireland/Republic of Ireland:
(i)                 All pulleys with locking elements have been torqued to the correct specification.
(ii)               All pulleys are free from mechanical damage to the Shaft, Pipe, Lagging Etc.
(iii)       All pulleys have had basic assembly dimensions checked.
(iv)              The correct pulleys have been picked and that quantities are correct as per customer order.
(v)                The shafts of the pulleys have been protected against corrosion.
·         Pulleys distributed outside Northern Ireland/Republic of Ireland. As above plus:
(i)                 All features including drill and tap, keyways, shaft grooves, radius etc. are present and correct.
(ii)        Bearings can be freely fit on shafts.
(iii)             Lagging pattern and thickness is verified.
(iv)              Shaft etching is complete if required by the customer.
·         Handle, transport and store component parts as per training and instruction.
·         Use and maintain work equipment correctly & safely, and keep a well organised workstation.
·         Conduct necessary quality inspections on all incoming pulleys from China suppliers, add quantities to stock data and report any issues identified.
·         Complete daily pre-use safety checks to ensure all work equipment is in good working order, and report any faults to the Despatch Supervisor.
·         Ensure all procedures are adhered to and necessary records i.e. production, quality and health & safety are completed correctly and submitted as required.
·         Provide cover in the absence of the Despatch Supervisor, ensuring goods are ready for despatch to meet with delivery targets and make decisions regarding work priorities.
·         Any other duties, within reason and capability, as agreed with Quality Control/ Pulley Production Manager.
Person Specification
| Criteria | Essential | Desirable |
| --- | --- | --- |
| Qualifications/Attainments | • Good standard of education to GCSE level or equivalent | • Valid Forklift Truck licence |
| Relevant Experience / Knowledge | • Previous experience of undertaking quality inspections of manufactured products | • Previous team leader/supervisory experience within a high-volume manufacturing environment. |
| Skills and Competencies | • Ability to read technical drawings • Strong organisational and communication skills, including the ability to listen • Ability to work within a team and in an environment that has constant changing priorities • Customer focus & attention to detail • A strong work ethic & drive for results | • Operational use of Cranes, Abrasive Wheels, Air & Hand Tools • Ability to use measuring tools |
---
Job Related Documents
---
Upload CV & Cover Letter